Christmas is upon us! The coca-cola advert has reappeared on our televisions, Poinsettias line the flower section of the supermarkets and our shopping lists are growing by the day.
Despite the merriment and joy, the festive season can also be rather stressful and chaotic if you're hosting or have a family full of fussy people to buy for. Therefore, we've asked our team to share their top tips for 'surviving the Christmas period', which may be of help to you.
Here's what they had to say…
Christmas Presents:
Tip 1: Buy your gifts online – Lindsay, Events Manager
"It saves you having to venture into busy shopping centres and gives you the opportunity to compare prices and ideas at a variety of online stores. You can often find some great deals on the internet and it really helps you stick to your list and budget, rather than a department store where there are lots of distractions and temptations."
Tip 2: It's about quality, not quantity – Craig, Sous Chef
"There's no point wasting your money on cheap items that won't last, just to up your present quantity. Spend a little bit more money on fewer gifts that are high-quality and that will be far more appreciated. If you're shopping for your wife, girlfriend, daughter or another special lady in your life, I recommend Pandora… They have a great variety of quality jewellery and they are always super helpful with suggesting ideas."
Tip 3: Find unique gifts locally –  Alex, Operations Managers
"There's lots of great businesses locally where you can find some fantastic presents. The Wellington Farm Shop, just 5 minutes drive from us, is great for buying gifts, from items for the home and garden, to award-winning cheeses, jams, chutneys and chocolates. Not only are you buying unique gifts that you wouldn't find on the high street and have been lovingly crafted in the UK, but you are also supporting your local community."
Tip 4: Wrap all the presents in one go –  Lindsay, Events Manager
"In my house, we all sit down one evening about a week or so before Christmas, to wrap all the presents. I've known people who have done their wrapping way too early and then forgotten what the item is or who it is for, so this avoids the mystery present situation!"
Tip 5: Give someone an experience gift –  Joe, General Manager
"I don't know about you, but I find it super hard to buy gifts for people nowadays. People always seem to go out and buy anything they need for themselves, and so it's hard to find something different that they'll use. I find experiences like days out or gift vouchers are great for those people that already have everything. Whether that be a thrilling Red Letter Day, tickets to a show/concert or treating them to a night out, there are tons of options online."
Here at The Wellington, we offer a range of popular gift vouchers, valid at any Red Mist Leisure pub. Why not treat someone to a delicious meal with us or perhaps a relaxing overnight stay? Take a look at our gift voucher packages here.
Festive Food & Drink:
Tip 6: Planning is key for Christmas dinner – Jay, Head Chef
"Work out the timings for each element of your meal and then work backward from your planned serving time – ensuring everything comes together harmoniously and stress-free. Don't forget to also enjoy a refreshing beverage whilst cooking (just not so much that you confuse your timings!).
Tip 7: Stock up on the Bucks Fizz – Lisa, bar & waiting team
"Make sure you stock up on your favourite festive tipple, whether that be mulled wine, Bucks Fizz or Baileys. We always have several bottles of Bucks Fizz chilling in our fridge for Christmas Day. I make sure that we also have a few bottles of lemonade and orange juice too, for the children, so they can enjoy a drink that looks the same but is non-alcoholic."
Tip 8: Rest the turkey – Jay, Head Chef
"The most important thing to do is ensure that you rest the bird, after cooking, in a warm place covered in tin foil. For every 30 minutes of cooking time, allow 10 minutes after for resting. This will ensure that the meat is tender, juices are even, and you have enough oven space for all the trimmings!"
Tip 9: Buy some frozen nibbles, just in case – Lindsay, Events Manager
"With the shops reducing their opening times, avoid having unexpected guests turn up during the 'inbetweenmas week' and not being able to offer them any nibbles. Supermarkets often have some great packs that you can keep in the freezer and simply pop in the oven when needed. I find sausage rolls, spring rolls and samosas always go down a treat, so stock up the week before Christmas."
Tip 10: Give your roast potatoes space and TLC – Jay, Head Chef
"When parboiling the potatoes, push them to the limit of overcooking, then drain and leave to steam until dry.  This will ensure they have rough/fluffy edges and that minimal moisture will be left behind. When you're ready to roast them, generously lather the potatoes in flavoured fat (duck, goose, beef dripping or cold pressed rapeseed are all good), season generously, and roast until crisp. Don't overcrowd your roasting tray either!
Tip 11: Speak to your local off-licence – Joe, General Manager
"Head into your local wine merchant or off-licence to ask what they would recommend pairing with your Christmas dinner. You will often find some incredible wines and spirits from all over the world that really complement the flavours in your meal. Granted, you are paying a slightly higher price than you would in a supermarket, but you are supporting a local business and paying for great quality and expertise, so it's totally worth it!"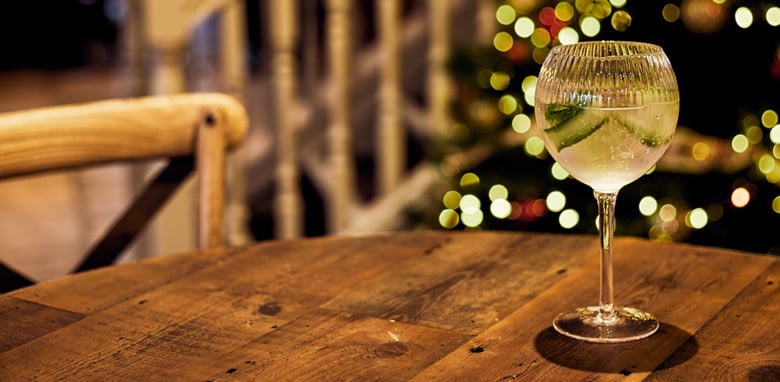 We hope these festive tips were helpful to you. From all of the team here at The Wellington Arms, we wish you a very Merry Christmas and a happy New Year!
If you're planning on paying us a visit over Christmas and New Year, take a look at our festive opening hours here.