Did you know, everything we offer on our menus is hand-made either here in our kitchens by our talented team of chefs, or for allergen reasons, made in dedicated kitchens using recipes bespoke for us; using only the finest ingredients from local suppliers.
However, did you also know that we serve local craft ales too? We caught up with one of our favourite suppliers to shine the light on their exciting and successful business venture.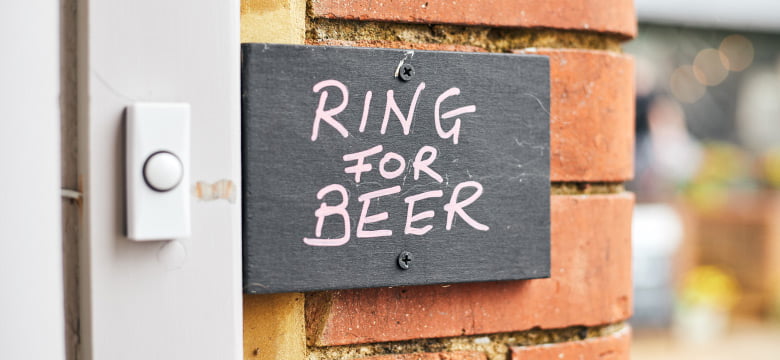 Tilford Brewery is a relatively new, award-winning craft brewery, located in the quaint village of Tilford in Surrey, just 40 minutes from our door.  It also happens to sit next door to our incredibly popular sister pub, The Duke of Cambridge, Tilford, which, if you haven't yet visited is a lovely country pub with a large pub garden and play area. They love meeting ale fans, so if you happen to be stopping by the pub and they're open, do pop your head in and say hi to Mark – he'll be delighted to chat and if you're lucky, he may have some tasters for you to try!
The faces behind Tilford Brewery
Founded by longtime local friends Mark (Master Brewer) and Paul, Tilford Brewery was very much an idea set about by the pair who shared a passion for craft beer and brewing.
Having a combined 40+ years' experience in hospitality, working in pub management, liquor procurement and kitchens, Tilford Brewery was a natural career progression for the duo and plans for establishing their very own brewery began to develop back in late 2015, over a pint in their local pub.  Following a variety of trials, their first commercial brew 'Rushmoor Ripper' debuted in our pubs in January 2017 and went on to win Best Beer that year at Farnham Beerex.  The following year they won Best Brewery at the annual Guildford Beer Festival and it's safe to say they haven't looked back!
What makes Tilford Brewery so unique?
With such huge competition in the craft ale market, the duo has really pushed the boundaries with their innovative and seasonal brews ensuring each and every beer is a unique experience for the drinker. What remains vitally important to the duo, and is very much the underpinning ethos of the business, is their confidence in guaranteeing the delivery of a good pint of ale every time. They achieve through using only premium ingredients, brewing in small quantities (so nothing is mass-produced) and maintaining absolute control of their sales process.
Their portfolio of popular craft ales continues to grow and, not only does Tilford Brewery sell their seasonal brews to Red Mist Leisure's family of pubs, but they also sell directly to the public and can offer a range of bottled beers, gift boxes and barrels of ale. So if you love entertaining at home, this is a great opportunity for you to showcase your talent in introducing your friends to this award-winning, local brewery – plus, you're keeping the carbon footprint small and supporting the local economy – it's a win-win!
Here at The Wellington Arms, we like to keep our guest ales fluid by changing them on a regular basis, so it's always worth keeping an eye on what ales we have on tap when you next pop in and hopefully we'll keep you on top of your game in enjoying the best in local ales.  If you are not familiar with the taste of a particular ale or lager, just ask a member of staff and they'll be delighted to give you a sample to try.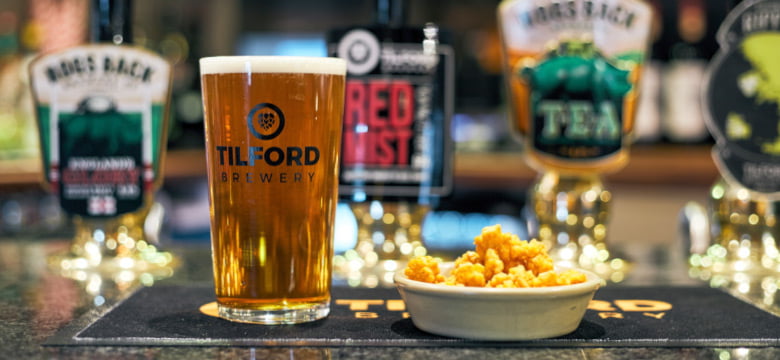 Just some of Tilford Brewery's delicious seasonal ales include Tilford Wit, Black Knight and of course, our house Red Mist Ale, these drinks are delicious on their own, served with food or even our delicious array of Made For Drink and Husk bar snacks, so whether you're catching up with friends, stopping in on your way home from work or meeting with clients – pop in and enjoy the taste of local in your glass and plate.