As of 2018, The Wellington Arms is part of the Red Mist Leisure family; an award-winning company who own eight other pubs across Surrey and Hampshire. Carry on reading to find out how Red Mist was established and what sparked our passion for pubs and great food and drink.
---
Red Mist Leisure was founded in 2004 by long-time friends, Mark Robson, Mark Williams and Julian Clarke. All three had successful careers in hospitality prior to joining Red Mist and had been involved in prestigious events including Royal Ascot, the Chelsea Flower Show, the Epsom Derby and the British Grand Prix.
Managing Director, Mark Robson, grew up in a small village in Berkshire, with a local pub down the road called The George and Dragon. Mark recalls the pub being undesirable and run-down with a limited market attracting only groups of occasional drinkers and smokers; it wasn't a popular destination for families wanting to socialise or dine. In the early 1990's the pub changed hands and it was refurbished to a high standard by the new owners, widening its appeal to a more family-friendly audience, giving it a spark of life and increasing its popularly within the village, as well as bringing new visitors to the area from further afield.
This inspired Mark and he recognised the direction that the pub industry was moving towards. He developed a strong interest in the revolution of pubs and it resonated with him that people desired pubs with higher quality food, sourced locally, that all genders and ages could enjoy, in a relaxed calm environment.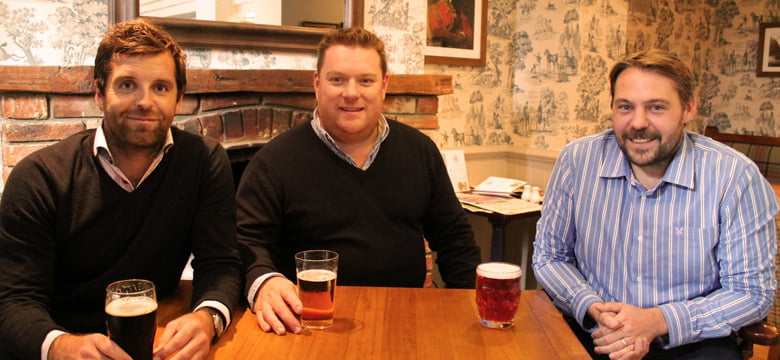 And so it began…
After stints working in the hospitality industry both in the USA and UK, Mark teamed up with Julian and Mark W to purchase the first Red Mist pub, The Half Moon in Charlwood.
With a very small budget, this pub refurb involved all hands-on deck, with friends and family helping out in any way they could with the revamp, and the two Mark's and Julian pulling up their sleeves and bouncing from various roles, from pulling pints to working in the kitchen.
A passion for delivering fresh, local and seasonal produce was developed through this first pub. Mark Robson recognised this ethos was particularly popular with residents in the Surrey and Hampshire area, which had a strong potential with the amazing suppliers nearby, from local farms to breweries and distilleries.
With the income that the small pub had made, Red Mist Leisure set out to expand to larger gastro pubs and so in 2005, RML purchased The Queen's Head in East Clandon, near Guildford; a pub that has since been nominated for multiple awards, is one of the highest ranked pubs in Guildford on TripAdvisor and still to this day is the bedrock of the group.
Fast forward to today…
As of today, Red Mist Leisure have 9 pubs across Surrey and Hampshire, employ over 150 members of staff and this year won "Best Premium Food Offer" at The Morning Advertiser Publican Awards. The pubs range from village retreats in the countryside, to bustling venues on the main high street of towns. Each have their own individuality and character, but still tie in with the values and philosophy that Red Mist is renowned for.
Aside from outstanding food and drink, Red Mist Leisure is perhaps also best known for purchasing dilapidated pubs, often deemed unviable by their previous owners; refurbishing and relaunching them as thriving local pubs and an essential part of the community.
2018 sees the addition of two new pubs for Red Mist Leisure. The Temple Inn in Liss Forest opened in July after going through an extensive refit to modernise the decor and create a family-friendly space in this small village pub; the heart of the Liss community. Our smallest project to date is now followed by our largest – The Wellington Arms will be RML's biggest project yet, with space for over 170 covers in the bar and restaurant, over 20 hotel rooms and a large functions room for weddings, parties and corporate events.
After purchasing the site in early spring 2018, the 18th century building has since been going through a major refurbishment, with the aim to combine the feel of a traditional English pub, with a relaxed, modern design. The bar area will represent an English hunting lodge with cosy fires to warm up next to in the winter months, with the function room offering a light, spacious area for all occasions.
The same ethos of sourcing and supporting local suppliers to develop fresh, seasonal menus will still be a major focus for The Wellington Arms and we will strive to create an enjoyable environment for all to enjoy, for both customers and staff. As with the other Red Mist pubs, The Wellington will be dedicated to rewarding the loyalty of customers through the Red Card scheme, allowing customers to collect points on every purchase to gain exclusive offers and cash-off vouchers as a little thank you.
---
We like to keep all our customers up-to-date with news and offers at our pubs. If you would like to sign-up to any of our newsletters, please click here and confirm you would like to opt-in to receive regular updates. You can unsubscribe at any time.