It's so hard to find a gift that is unique, shows thought, doesn't break the bank and you know will quite simply, be loved!
As a local, independent pub company we thrive on being able to, not only bring our own passions of creating a warm and inviting pub environment for our community but also to help raise the profile of local, talented businesses and entrepreneurs who are nestled right here within our home counties. Make sure to take notes as you read on in our latest blog featuring our top gift picks for Christmas 2019 and remember to support local, they really do conduct a little dance with every sale they make!
Wellington Farm Shop
Not only does our nearby neighbour here on the Wellington Estate produce and stock an array of delicious meats, cheeses and every other classy food brand worth it's salt, but they also have a sharp eye for quality suppliers and gift collections.  Drop in the next time you're in the area, and you'll be sure to walk out with a few treats under your arm, whether for the dinner table on Christmas day or stocking fillers for the family – we especially love the Cole's Christmas pudding (£8.25), which features a 'lucky sixpence' inside to bring wealth and good luck for the following year. www.wellingtonfarmshop.co.uk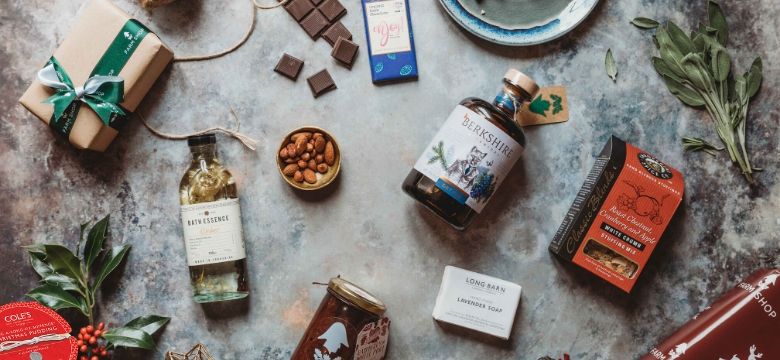 The Lilly Grey Company
A lovely little online shop filled with prints for every occasion. Setup in 2018, mumpreneur Lydia (from Church Crookham, Fleet) is an incredible artist who specialises in watercolour and typographic art, ranging from beautiful, personalised prints to invites and cards at super affordable prices. Her Instagram page is well-worth following for inspiration alone! www.thelillygreycompany.co.uk/
Giftpop Boutique
A Muddy Stilettos Winner, this online shop, set up by mumpreneur Hannah (who lives just outside Newbury) is a firm favourite! There are so many great gifts to choose from, but her bags (and extra straps, which really allows you to personalise your hold-everything-but-the-kitchen-sink accessory) are the absolute bomb! We've got our eye on the rose gold 3-in-1 tote bag (£55). You will be sure to win lots of brownie points by purchasing any of the gifts on this site, plus she might even have space to hold your keys and phone on the next night out! www.giftpop.co.uk
Weekend experience at The Wellington Arms
Not one to blow our own trumpets, but our gift voucher experiences offer such value – that really it needs to be shouted about! Book a Bed & Breakfast overnight break for just £100 and not only is there an array of activities in the surrounding area, but you'll also be saving money (prices on average range from £130-150 per night). Alternatively, you may prefer to buy monetary vouchers for your recipient to enjoy a heavenly food and drink experience at any of our ten pubs, located across Hampshire and Surrey. www.wellingtonarmshampshire.giftpro.co.uk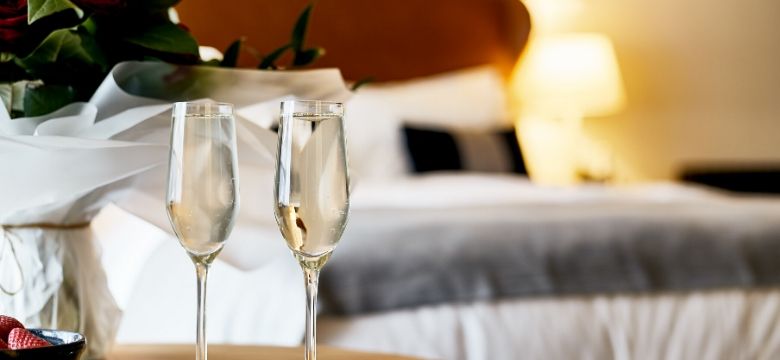 Millie Pink
If you have little girls to buy for, we dare you to look at this site without making a purchase! A local Berkshire mum and daughter (Millie) set up this terrific online shop to bring personality to the flowing manes of our littlies. Not only do they have a great range of headbands, grips and slides, but there are some great stocking fillers including trinket dishes, jewellery and purses. www.milliepink.com
Remain Untamed UK Gym Wear
For the hardcore exercisers, dog walkers and lovers of lycra, we are loving local activewear brand Remain Untamed (based in Farnborough) for their classic women's styles that can withstand the most heinous workouts (for you crossfitters out there). Sophia, the founder, has been wearing staple gym wear every day for the past fifteen years as a personal trainer, crossfitter and general competing fanatic and so she knows better than most, what the absolute musts are when designing comfortable gym wear. Launched earlier this year, her clothing range is super comfortable (think Lululemon without the price tag), beautifully designed and affordably priced. www.remainuntamed.com
Irvine Shirts
The man in your life is often a little harder to buy for, so we had to travel a little further out to source this little gem of a business. Alisdair Irvine from Banbury in Oxford has created a collection of incredible one-of-a-kind unique (and handsome) shirts, ideal for those who lead a colourful and eccentric lifestyle.  Every shirt has been hand-tailored, using the good old-fashioned sewing machine, ensuring you have room to breathe without the dreaded button-gape. Plus, the cotton has been 'mercerised' to give the shirts a rich and silky finish. We particularly loved the 'floating dandelion' (£85). www.irvineshirts.com
Tilford Brewery and Hogsback Brewery
A great stocking filler if ever there was one for your favourite recipients to drink or, if they are big foodies, to create a divine steak and ale pie with. Set up by local Surrey friends, Paul Griffiths and Mark Collins, Tilford Brewery has five varieties to choose from and offer a gift box of 3 pick and mix bottles for just £10. If you're a regular here at The Wellington Arms, then we're sure you'll be familiar with their award-winning brews! Hogsback Brewery, as an alternative, has become a staple Surrey classic and continues to reign in the domination of local ales. Plus, the brewery also offer tours at its Tongham site, so why not combine to create the beer lover's dream gift! www.tilfordbrewery.beer | www.hogsback.co.uk
Wishing you the best of luck in the run-up to Christmas in achieving everything on your To-Do list. If you need a break, are in need of inspiration or just fancy a drink and bite to eat, then pop in to enjoy the warmth of our service and atmosphere. Did you know that you can book a table online up to 45 minutes prior to your preferred seating time (subject to availability!) We look forward to seeing you soon.